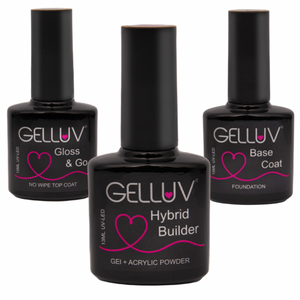 Large Builder Gel Package
This discounted package includes 1x 13ml bottle Hybrid Builder Gel, 1x 15ml bottle Foundation, 1x 15ml bottle Gloss & Go.
Our Hybrid Builder Gel really is one of a kind. It allows for the odourless and flexibility of a Builder Gel whilst the strength and durability of an Acrylic. It comes in a 13ml bottle with a brush to ensure efficient and tidy use.
Instructions can be found under the  'Application Instructions' tab.